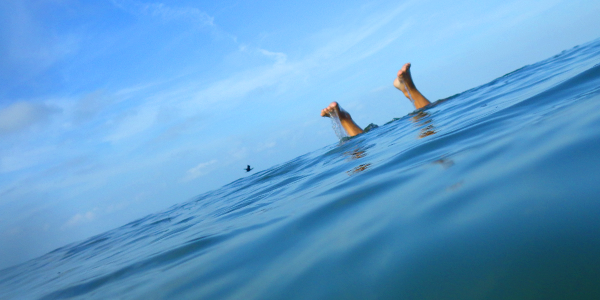 "Don't grow up too quickly, lest you forget how much you love the beach." ~ Michelle Held
If Florida is the planet where Yankees escape the snow and cold of winter, then the Florida Keys are the center of the universe. A place where the rum drinks flow, the spirit is easy-going, and a salty ocean breeze always fills the air. Life is the Keys is all about simple pleasures and letting the magic of the ocean have its effect on you.
For this part of our trip, we spent over a month in Florida with two weeks in the Florida Keys. Having traveled through some overcast and wet weather getting there, experiencing the humidity, sunshine and the sweet-salty air was a wonderful change.
We started up north at Flagler Beach near Daytona and took full advantage of the ability to drive our truck right out on the beach mere yards from the surf. Paddleball (a simple yet torturous game where you smack a small rubber ball back and forth with a partner using an oversize ping pong paddle) and Nerf football became the preferred pastimes. The weather was humid and sunny like the Midwest in July. The beach vibe is always friendly and the people relaxed.
Meandering further south, we visited Highland Hammocks State Park and went hunting for shark's teeth in a river within our campground. The kids loved it. We met some other traveling full-time RV families who were in town for a rally and took advantage of the always entertaining people-watching opportunities at the community park pool. As usual, I parked myself at either the closest Starbucks or the park community center for the day to get work done.
Florida parks during this time of year are the regional center and summit for the Cult of the Little Yappy Dog. The beasts were everywhere. Portly retirees parade their respective canines around in golf carts for all to gaze upon and pay homage. Rank is still determined by how many dogs a member owned and was able to manage at once on multiple leashes.  I generally make it a point to not be a 'joiner', so I humbly bowed-out of the customary dog greeting rituals.
After driving down to the bottom of the state through the Miami area and then down Route 1 to get into the Keys, you start to notice the difference immediately. You're completely surrounded by ocean all around you, where pelicans glide effortlessly on invisible air streams and fishermen spend lazy days out on walkways designed just for them to access the ocean and harvest its fruit of hundreds of different types of fish. Shrimp and squid are the bait of choice. More than once I caught a glimpse of excited anglers pulling up good-sized fish from 40 feet below.
Along Route 1, you start to see these amazing little places that look like have the best food ever on the planet. My wife is a big key lime pie fan (and I just like to eat everything) so when we spotted a key lime pie shop on the road, of course we had to make a stop.
My philosophy with a lot of the choices we make along the road is that this could be the very last time you do/see/taste this specific thing. So if you want to experience the $24 key lime pie voted to be the best key lime pie in Florida and maybe the US and maybe even the galaxy, then by god you better pull that rig over and go get yourself some key lime pie. I think we've finally gotten used to not talking ourselves out of things and my pants size are a testimonial to this.
We arrived at our RV Park and immediately noticed the difference. RV parks are micro-cultures. We stayed in some parks (very few) where you felt like you were invaders and people never wanted you really there. We stayed in other RV parks such as New Orleans where you are a part of the family.  The culture in the Keys is one of lazy enjoyment. It's as if you have found your own private club where nobody is out to impress anybody else. The look in people's eyes seemed to say "Congratulations, you made it here!" I never found an unfriendly face.
Nearly every day I would stroll the 4 minutes to the tiki bar (where the Wi-Fi signal was strong, really) with my business-in-a-backpack and set up on one of the tables that overlooks the ocean. My kids got used to coming down to the bar to look for dad. Often times that's where they would do their schoolwork as well. Not many kids get to do their school work at a tiki bar with dad, and to be fair they didn't start serving until four o'clock anyway. Never hurts to be early for happy hour in the Keys. I figure I am teaching my kids good life skills on being punctual.
One of the big benefits of this park is that we were able to do some snorkeling right off the shore where many different types and species of fish made their home in the coral reef and rocks. You could swim out for nearly a quarter-mile before the water got over 15 feet deep. My sons, who were a little timid at first about getting in the water with so many visible sea creatures, clung to me like barnacles as I led them around in shallow water showing them the different fish. Within minutes, they were on their own diving and rolling underwater and creating their own 'Jacques Cousteau' experience with underwater marine life.
I have decided that whenever I see my kids showing interest in something that doesn't look like a video game or in an electronic device of some kind, I will stop the train and invest time and money into whatever that interest is immediately – and usually make a big deal out of it for their sake.
I really truly believe that one of my jobs as a dad is to help eradicate fear in my kids, which always requires me pushing past my own fears and comfort zone and leading the way. I really believe that there is no substitute for doing and experiencing things with them.
For example, I was delighted that my youngest son wanted to go fishing while we were there, and luckily we were able to fish right off the shore. This is the son that must be bribed and threatened before he will put down an Xbox controller. One evening we set up our rods right off shore and he caught a couple extremely small snappers as the sun went down. Not even remotely enough meat on these to feed one person.
This was a moment that could easily make or break his interest in fishing so I decided to make a huge fuss about it. We took the laughable size snappers and filleted a couple strips of meat off of each. Back to the camper we went where they were properly battered and pan fried. Now he's interested in fishing. Mission accomplished.
Other highlights of the trip included snorkeling in John Pennecamp State Park that provides access to some of Florida's wildlife and marine life and a drive down to Key West where we spent some time shopping, tasting Cuban food and enjoying snow cones topped with condensed milk – a very nice touch and refreshing on a hot day.
Right now, we are in Virginia and mere weeks from returning to our starting point of West Michigan. There's a bittersweet aspect to this time as we prepare for the last few stops, catch up on writing, and focus on finishing strong.  There is much to be thankful for.
Next post: Florida Part 2, which will include an exciting account of swimming with manatees and how to make a Caribbean rum drink called the Painkiller that temporarily turns off most of your memory functions.